---
Distance learning, First Aid for Mental Health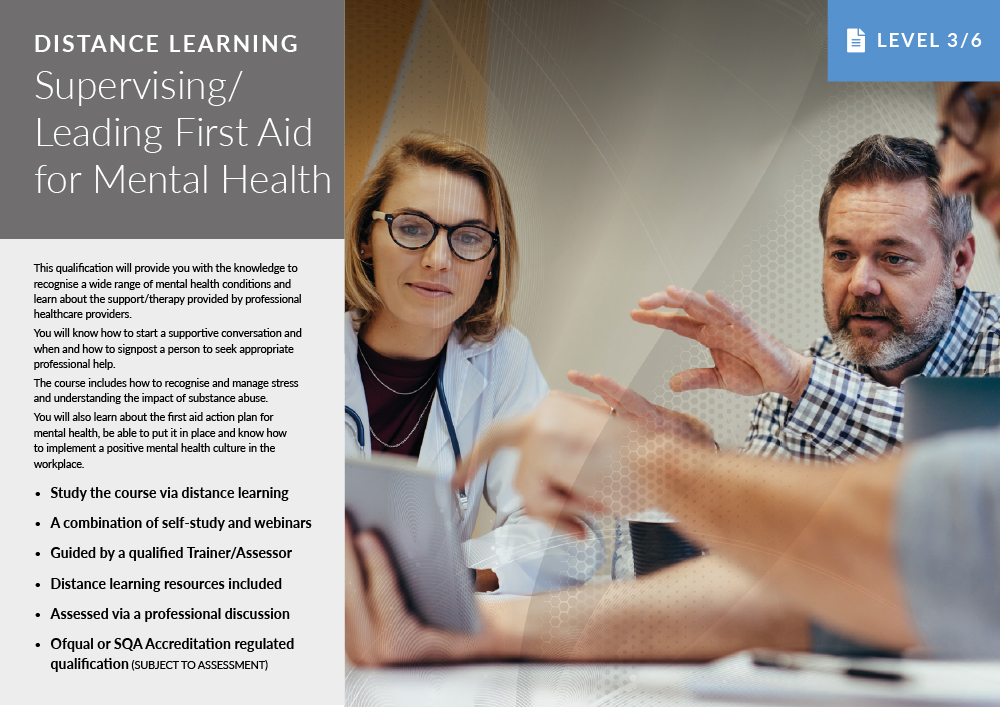 30

Mar 2020

Nuco are pleased to announce the introduction of distance learning for the following qualifications:

FAA Award in Awareness of First Aid for Mental Health (Ofqual Level 1/SQA Accreditation Level 4)

FAA Award in First Aid for Mental Health (Ofqual Level 2/SQA Accreditation Level 5)

FAA Award in Supervising/Leading First Aid for Mental Health (Ofqual Level 3/SQA Accreditation Level 6)

Distance learning will allow Trainers to continue to operate during the current Coronavirus situation with travel and movement being restricted.

This qualification will provide you with the knowledge to recognise a wide range of mental health conditions and learn about the support/therapy provided by professional healthcare providers. You will know how to start a supportive conversation and when and how to signpost a person to seek appropriate professional help. The course includes how to recognise and manage stress and understanding the impact of substance abuse.

You will also learn about the first aid action plan for mental health, be able to put it in place and know how to implement a positive mental health culture in the workplace.

HOW IT WORKS
Trainer/Assessors will supervise Learners through their distance learning providing knowledge, help and support.
The Learners must be provided with a copy of the Instruct UK First Aid for Mental Health manual as their main point of reference, and the FAA Learner Resource sheet which contains links to the FAA PowerPoint presentation, videos and weblinks.
Trainer/Assessors will supervise Learners through their distance learning providing knowledge, help and support.
The Trainer/Assessor must have contact with Learners on a regular basis to monitor their learning, provide teaching and to enable discussion and question and answer sessions etc. For example, a Trainer/Assessor could ask Learners to cover a Module/s and then arrange a webinar. Through teaching, discussion and by answering any questions that Learners may have, a Trainer/Assessor will be able to gauge their level of knowledge and understanding and decide if they are ready to move on to the next Module/s and ultimately when they are ready for the assessment.
The Trainer/Assessor is responsible for ensuring the learner completes the full syllabus and is therefore ready for assessment.
The Learner should also be able to contact the Trainer/Assessor for additional guidance as needed which could be at a predetermined time.
Nuco understand that teaching through webinar software is more difficult than in the classroom and the addition of self-learning prior to the webinar will hopefully assist with this.
ASSESSMENT
The assessment must take the form of a professional discussion conducted on a one-to-one basis and recorded, saved and stored in the same way as normal FAA course paperwork.
Trainer/Assessors must follow the FAA guidance regarding professional discussion to ensure that the assessment is valid, reliable and robust.
The Trainer/Assessor is responsible for ensuring the learner completes the full syllabus and has the knowledge, understanding and skills required to be awarded the regulated qualification.
Learners will be unable to receive a regulated qualification without video evidence of the assessment being available to FAA for quality assurance purposes.
RECOMMENDED SOFTWARE
Nuco recommends the use of Zoom for this purpose.
Nuco are unable to provide technical help with the use of Zoom, but there is a detailed help and support service if needed and online chat support.
Trainers can use software from other providers, but must ensure that any package they use supports recording of the professional discussions and that the Trainer is able to upload the video files to NucoPlus upon request.
ADMINISTRATION
Courses should be registered on NucoPlus as normal, by choosing the Distance Learning version of the course. It is important that the dates are correct on the system with the start date being the date the Learner enrolled and the end date being the date that the video assessment took place.
Nuco's Internal Auditors will quality assure the videos in the same way as they would with paper documents, ensuring that the full assessment has been covered (following the Professional Discussion Assessment Record) and that assessment decisions are being made in line with FAA guidance.
DISTANCE LEARNING COURSE PAPERWORK
The following documents are available for you to download in NucoPlus, if you are registered to teach the Level 1/Level 4 First Aid for Mental Health Awareness course. Please note that the classroom-based assessment papers are not suitable for use through this delivery method.
Distance learning Registration Form
Distance learning Qualification Specification
Distance learning Learner Resource Sheet
Distance learning Assessment Guidance
Distance learning Assessment Record
Distance learning Evaluation Form
It is essential that the Trainer/Assessor Distance Learning Guidance is read in full before beginning to deliver the qualifications through distance learning.
When you register a Distance Learning course online, you will also have the option to download the documents during the process.
TIPS FOR WEBINAR TEACHING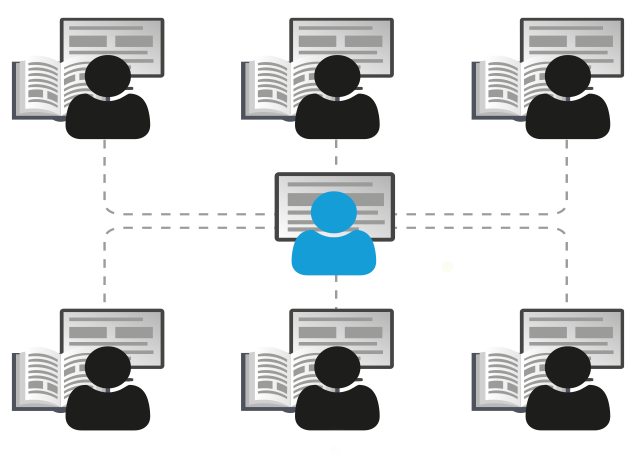 Teaching through a Webinar is a totally different experience for both the Trainer/Assessor and Learner and the following points should be taken into consideration:
Position of the webcam for the Trainer/Assessor and Learners
The microphone must be positioned so the Trainer/Assessor can be clearly heard
Ensure the background to any video is suitable and not distracting
The room is free from background noise and distractions, such as pets and children
Allow comfort breaks in the same way as classroom learning
The Learners should mute their microphones when not speaking to prevent feedback and interruptions
Screen share can be used with most software allowing PowerPoint to be used and videos
Ensure that no unwanted windows are open when using screen share, such as private documents and emails
Ensure all Learners are actively encouraged to participate
Ensure all Learners are attentive and engaged
Most software allows the use of polls to quiz Learners
FUTURE QUALIFICATIONS THROUGH DISTANCE LEARNING
FAA will continue to expand the qualifications that Nuco Trainers can deliver through distance learning. They are currently working on the FAA Award in First Aid for Mental Health and the FAA Award in Supervising/Leading First Aid for Mental Health which will be available shortly.
With regards to physical First Aid, the HSE have stated that under no circumstance can this be assessed or delivered remotely, so these qualifications will unfortunately not be available through distance learning.
You can find the course books for all Distance Learning courses on the NucoPlus online shop here
If you have any questions or need any additional information then please email Darren@nucotraining.com